We curate smart building solutions based on a deep understanding of the end-users' needs, realities, and expectations around technology.
Our Future-Ready Building Method process is always centered around purpose and people so it can be applied to any type of project — from new construction to renovation; amenity floor upgrade to office buildout; multifamily to museum.
EVERY BUILDING NEEDS A DIGITAL FOUNDATION
Techmenity designs a converged network that allows for simple, non-invasive upgrades and creates an environment that is responsive, secure, and easy to manage via Single Pane of Glass (SPOG) control. This network infrastructure acts as the central nervous system for your building, connecting the various technology solutions we oversee:
Techmenity partners with specialists providing agile mobile access control solutions that are simple for owners, staff, residents, and visitors. Remote management capabilities enhance safety at every level, without sacrificing convenience. Residents enjoy a seamless building entry experience. Property managers get added security and convenience. Developers & owners invest in systems that are future-ready, easily upgradable and add new dimensions of control.
Techmenity designs and integrates custom AV solutions from conference rooms to high-end home theaters, multi-room audio installations and immersive theme rooms. If you can imagine it, we can engineer it.
Techmenity protects your network and your building's systems with ongoing 24/7 monitoring solutions for both physical system tampering and cyber security risks.
Techmenity provides installation and commissioning of IoT sensors, gateways, and low voltage cabling for your smart building. We also design and build the network infrastructure that supports IoT functionality - from the edge to the cloud.
Techmenity designs, deploys, and manages WiFi solutions — from secure private networks to property-wide connectivity that makes Wall-to-Wall WiFi an amenity and creates opportunities for new streams of revenue for operators.
Techmenity designs and deploys systems that allow your whole team to connect to video conferences on any platform stress-free, whether you are WFH, using zoom rooms, or conducting large meetings in the executive conference room.
Techmenity helps your business modernize telephony and messaging with hardware and cloud-based solutions, providing maximum flexibility for uniting a modern workforce.
Techmenity's highly experienced IT team will ensure your digital endpoints are configured, connected, and secure. We monitor and manage your systems 24/7 from our NOC and believe that a proactive approach to maintenance and support results in more uptime and fewer tickets and incidents.
Techmenity will design and install signage and video walls that are used for communications, advertising, branding, and wayfinding for your tenants and visitors. Effective signage is remotely managed and can be updated instantly from any administrator's device.
We partner with licensed specialists to protect lives, assets, and facilities with the proper mix of surveillance, access control, and alarms. Cybersecurity is central to what we do and our partners follow best practices to deliver secure, encrypted, cloud-based platforms that integrate physical security and cybersecurity.
Lighting can transform the relationship between occupants and structures. Automated lighting and shading systems can be paired to optimize comfort, productivity, and energy efficiency. We work with lighting designers to find expanded uses for their designs and ensure that controls are elegantly integrated with other functions, like your thermostat or security system, for additional savings and convenience.
We help clients leverage healthier buildings as recruitment tools and sources of competitive advantage by curating technologies that support and enhance occupant health, productivity, and well-being. We integrate wellness IoT solutions, touchless technologies, and systems for micro-particle air filtration, water purification, circadian lighting, climate control, and more. Techmenity can also guide you through the process of applying for and winning the following healthy building certifications: WELL, Passive House, Fitwell, RESET.
Techmenity partners with HVAC contractors to bring the maximum amount of flexibility to integrated control and building analytics systems. This results in more energy-efficient buildings that are easier to monitor and manage.
Create flexible, activity-based workplaces, campuses, and residential amenities with technologies to optimize room scheduling. These systems give your organization better control over your conference rooms, desks, classrooms, and other workspaces, and provide insights into your space utilization to help you make better asset management decisions.
Techmenity partners with the most experienced DAS engineers to offer 5G, LTE, and public safety signal boosting to bathe your property in connectivity; from sub-basement mechanical rooms to sky-high residences and offices.
Managed Services proactively manage your IT environment to minimize costly downtime and events that cause disruptions. Our proactive monitoring allows for remote access and IT support services to ensure systems are secure and communicating effectively; maximizing uptime so that you can focus on business continuity. Includes: 24/7 Computer & Server Monitoring, System Maintenance & Updating, Data Protection with Anti-Malware & Firewalls, Quarterly Business Reports, Network Support, Help Desk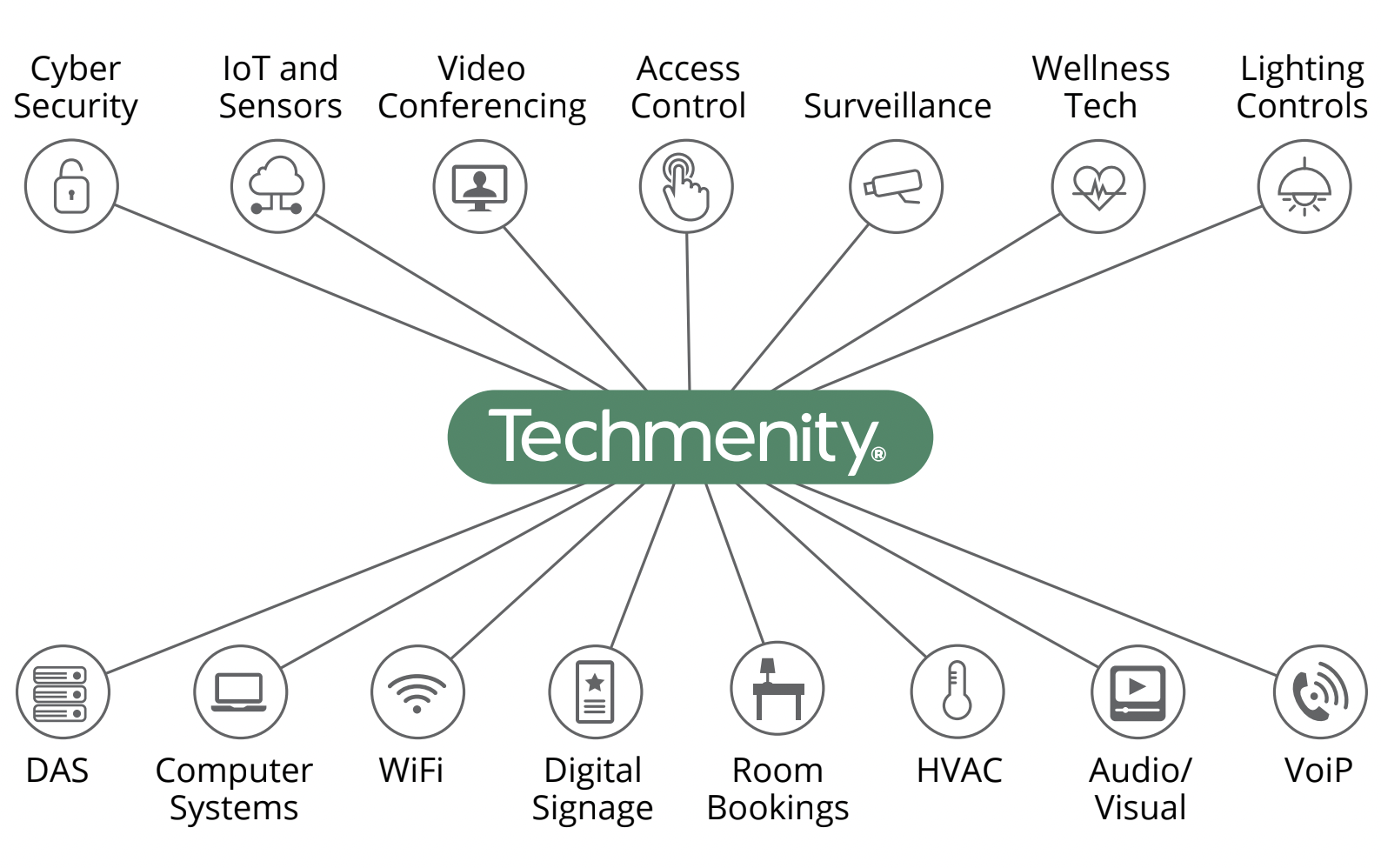 Hub & Spoke Model
As the TechGC, we leverage our extensive Partner Network to recommend vetted experts for each specialized PropTech system. Techmenity serves as a hub for our partners and central point of contact for our clients, coordinating timelines and overseeing the technology deliverables from each trade.
By building a team of trusted specialists, we create a formula for better processes, more successful outcomes, and repeatable results.